Who is The Highway Doctor?
The Highway Doctor is the alter-ego of Doug Fischer, a civil engineer who has been in the transportation industry for over 30 years.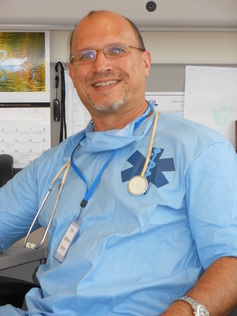 Biographical Sketch of Douglas W. Fischer, P.E.

Doug Fischer was born and raised in the small steel town of Massillon in northeast Ohio where he parlayed his athletic prowess into a full athletic scholarship to play football at Iowa State University. Football accomplishments include being a 4-year letterman, 1981 Academic All-Big 8 Conference linebacker, and 1983 Reuben J. Miller Award (Outstanding Athlete On and Off the Field). While at Iowa State, Mr. Fischer followed the careers of both his father and grandfather and graduated in 1985 with a Bachelor of Science Degree in Civil Engineering.

Upon graduation, Mr. Fischer's professional career started with the consulting firm of Black & Veatch,
Kansas City, Missouri where he worked as a structural designer in their Overland Park, Kansas office and
then at a construction site in Fort Worth, Texas. Wanting to get into the transportation side of civil
engineering, Mr. Fischer soon returned to Cleveland, Ohio and joined the firm of Howard Needles
Tammen & Bergendoff (HNTB). Missing the Midwest however, Mr. Fischer came to Minneapolis, working for the firm of BRW (now URS). While at BRW, Mr. Fischer first became involved in projects in Anoka County. Working so closely with the Anoka County Highway Department staff, in 1991 Mr. Fischer began his public service career by being hired as the Design Engineer with the Anoka County Highway Department. After several years, he was promoted to Assistant County Engineer and served in that capacity until he left in 1998 to become the Deputy Director of the Transportation Division for Washington County. In that position, he was responsible for the highway department and their regional rail activities. In October of 2001, Mr. Fischer was asked to return to Anoka County and was appointed as Director of the Highway Department and was then later appointed by the County Board to be County Engineer in May 2002.

Mr. Fischer is active in professional activities as well. He has served on the Board of Directors for the Minnesota Section of the American Society of
Civil Engineers (Mn-ASCE) including its President in 2003-04. He has also served on the Board of Directors for the Minnesota County Engineers
Association including its President in 2011. He is also a member of the National Association of County Engineers and the American Public Works Association. In 1996, Mr. Fischer was presented the ASCE Chapter "Young Engineer of the Year" award by the Minnesota Federation of Engineering Societies. In January of 2015, Mr. Fischer was awarded the "2014 Outstanding County Engineer" by the Minnesota County Engineers Association. Mr. Fischer has been active in research projects with the Minnesota Local Road Research Board and legislative issues affecting highway development and funding in Minnesota.

Mr. Fischer is registered as a Professional Engineer in the states of Minnesota and Ohio.

Mr. Fischer resides in Blaine, Minnesota with his wife Karrie, and has four children and two grandchildren.
---



Copyright 2016 Douglas W. Fischer Minneapolis, MN