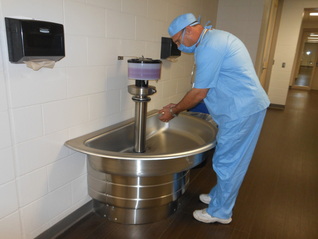 "Patients" that have been helped by The Highway Doctor...

---
​ Patient

1. Anna Conda
2. Art Terrees
3. I.C. Spots
4. Stan Lee Cupp
5. Miss L. Towe & Chris Mistry
6. Les F. Ort
7. Hy Pochondriac
8. Ichabod "Ichy" Skinner
9. B.A. "Biggie" Rhodes
10. April Showers & Mae Flowers
11. Anita Sign
12. Van Winkle
13. R.U. Patchin
14. Rudolph R. Deer
15. Fuzzy I. Site
16. S. Patrick Day
17. April Fuhlsday
18. Gil Angler
19. Dee Ficiency
20. Willie Maykit / Betty Wont
21. I. Feldown & Lord Howitt Hertz
​22. Val N. Tines
23. Merle Lowe
24. Tyra Pressure
​25. Shay King
​26. Melody Malady
​27. Chris Anthemum
​28. Alotta Signs
​29. Dennis L. Bowe
​30. Dustin Milungs
31. Dane Bramage


Ailment

Fear of snakes.
Varicose veins.
Seeing blinking lights.
Ice for sore muscles?
Lead poisoning.
Exercise shortcuts?
Correct medicine dosage.
Dry, flaky skin.
Weight problem.
Can't see at night.
Extrasensory Perception
Sleep Apnea
Cold / Flu Season
Red Nose
Blurry Eye Sight
Green Skin
Laughter as Medicine?
Fish hook in finger.
Feeling Tired
White-knuckling It Driving on Snowy Roads
Epsom Salts for Sprained Ankles
​Depression / Broken Heart
Is Red Wine Healthy for You?
Heavy Lifting During Flu Season
​Having a Nervous Breakdown
Ear Worms​
​Stress Reducing Gardens
Seeing Signs Everywhere​
​Post-Surgery Rehabilitation
​Asthma
Brain Circuits


Highway Diagnosis

Highway warning signs.
Highway networks.
Emergency vehicle pre-emption lights.
Ice damage to roads.
LED traffic signal lights.
Pavements get stronger in cold temps.
Salt application rates on highways.
Salt residue on highways.
9-ton versus 5-ton roads.
Retroreflective sign sheeting.
Detour Signage
Drowsy Driving
Pothole Season
Red in Traffic Control Devices
Driving Behind a Snow Plow
Hydro Seeding
Construction Terminology Humor
Fishhook (J-Turn) Intersections
Highway Salt Supplements
MN Law on Driving for the Conditions
Road Deicing Salts
​Tire Safety
Drunk Driving
Spring Road Restrictions
​What Causes Ice Ridges in Pavements
Driving with Earbuds In​
​Highway Landscaping
​Traffic Control Devices
​Highway Rehabilitation Techniques
​Dust Control on Highway Construction
Texting While Driving

Please scroll down for each specific ailment and diagnosis. Many more are coming, so please stayed connected for more articles!
Do you have a highway related question for The Highway Doctor? If so, he'd love to hear from you! Just click on the
"Contacts/About"
tab above and maybe your question will be answered in
The Highway Doctor
blog or even make it as the feature article of the month!
1. Anna Conda has a fear of snakes on the road, but The Highway Doctor explains about the different types of curve warning signs!
Dear Highway Doctor:

I am writing this letter to you from the hospital as I recently was involved in a terrible crash. First of all, I must confess that I suffer from ophidiophobia – the fear of snakes. Well, I was driving down a rural county road the other day when all of a sudden I saw a highway sign warning me of snakes on the road! Well of course I freaked out and immediately drove off the road where I crashed into a tree. How can we get all of these lecherous snakes off of the highways to keep people like me from having more accidents?

Anna Conda

The Highway Doctor's diagnosis:

W1-5
Dear Ms. Conda:

First of all, I am very sorry to hear about your crash – I hope you have a complete and speedy recovery. With regards to your issue of snakes on the highway, I believe a little education will be able to solve this problem. You see, the sign that you probably saw doesn't mean "snakes on the road", it actually meant "winding road". To be specific, this was a traffic warning sign W1-5 as identified in the Minnesota Manual of Uniform Traffic Control Devices (MMUTCD). Your local county highway department uses this manual to properly install and maintain pavement markings and signage. If it's not in the manual (and there are no "snake on the road signs), then it's not posted along a highway. According to the MMUTCD, all warning signs shall be diamond-shaped with a black legend and border on a yellow background (unless specifically designated otherwise such as a fluorescent yellow-green background used in school zones).
---
Warning signs call attention to unexpected conditions on or adjacent to a highway or street and to situations that might not be readily apparent to road users. Warning signs alert road users to conditions that might call for a reduction of speed or an action in the interest of safety and efficient traffic operations. The sign that you saw is in a class of warning signs that denote changes in horizontal alignment (curve signs). Besides the "winding road" sign, some other signs from this group include "turn", "curve", "reverse turn", "reverse curve", "hairpin curve", "270-degree curve", and "truck rollover". These signs may also be supplemented with speed advisory plaques, arrows and/or chevrons.

So the good news for you is that there aren't any snake infested highways in Anoka County and the sign that you saw meant "winding road". As far as dealing with your case of ophidiophobia, my advice is to consult with a phobia treatment expert (perhaps some neuro-linguistic programming) who can make your condition all but hissssstory!

To good health on the highways,

The Highway Doctor


2. Art Terrees may have a question about varicose veins, but The Highway Doctor will teach him about a highway network in this article!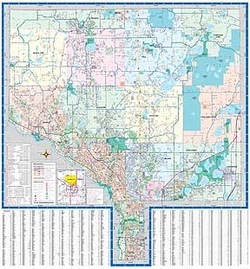 Dear Highway Doctor:
Recently my doctor diagnosed my wife as having varicose veins and has prescribed stripping the veins in her legs to relieve her pain and to make her legs more attractive. I'm concerned that this will cut off circulation to her legs. How many veins can be removed without affecting her blood flow?
Art Terrees
The Highway Doctor's diagnosis:
Dear Mr. Terrees:
Varicose veins are
veins
that have become enlarged and tortuous. The term commonly refers to the veins on the leg, although varicose veins can occur
elsewhere
. Veins have leaflet valves to prevent blood from flowing backwards. Leg muscles pump the veins to return blood to the heart, against the effects of gravity. When veins become varicose, the leaflets of the valves no longer meet together properly, and the valves do not work. This allows blood to flow backwards and they enlarge even more. Varicose veins are most common in the superficial veins of the legs, which are subject to high pressure when standing. Besides cosmetic problems, varicose veins are often painful, especially when standing or walking. The
traditional surgical treatment has been
vein stripping
to remove the affected veins. Newer, less invasive treatments, such as ultrasound-guided foam
sclerotherapy
,
radiofrequency ablation
and
endovenous laser treatment
, are slowly replacing traditional surgical treatments.
With regards to how many veins can be safely removed, because most of the blood in the legs is returned by the deep veins, the
superficial veins
,
which return only about 10 per cent of the total blood of the legs, can usually be removed or ablated without serious harm. You may also be very surprised to know that the adult human body has almost 100,000 MILES of veins. From the large arterial veins to the very densely packed and microscopic veins attached to organs, these veins form a network of blood vessels to pump your blood throughout your body.
Of course, being The Highway Doctor, this reminds me all too much of how we have a network of roads and highways to distribute traffic throughout our region. Just like veins, this network consists of major arterials and minor streets and alleys. In a closer look at the Anoka County highway system in particular, you will find that while we have a relatively few amount of the major arterial highways classified as freeways, they do move the most traffic. Here's how this system breaks down by jurisdiction and vehicle-miles travelled per day on that system:
---
Vehicle Miles
Route Miles Travelled per Day

INTERSTATE TRUNK 23.231 1,314,938
U.S. TRUNK 18.800 1,154,077
MINNESOTA TRUNK 52.473 1,360,850
COUNTY STATE AID 308.260 2,573,470
COUNTY ROAD 112.374 262,662
MUNIC. STATE AID 290.026 697,846
MUNICIPAL STREETS 1,452.414 912,630
TOWNSHIP 55.588 7,272
SUBTOTAL 2,313.166 8,283,744

So in the county's 2,313 mile highway system, there are over 8 million vehicle miles being driven each day. The highways under the jurisdiction
of the Anoka County Highway Department account for 34% of the miles driven even though we are only 18% of the miles of road! And just like vein
stripping, removing a couple of alleys or minor streets won't greatly impact traffic flow. But just like cholesterol in an artery can cause an increase in blood pressure, a road closure or inclement weather on a major freeway can cause a traffic jam that increases your blood pressure well beyond healthy limits too! So look out for both!

To good health on the highways,

The Highway Doctor


3. I.C. Spotz thought that she was seeing spots where they weren't supposed to be, but
The Highway Doctor explains about a new warning light on traffic signals.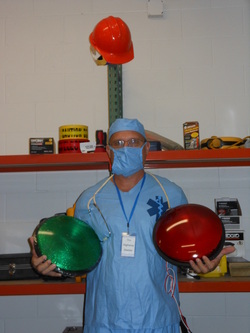 Dear Highway Doctor:

I think I need my eyes checked—I'm starting to see spots!! I already know that traffic signals have three colored indicators: green, amber and red. But occasionally I see a fourth, white light on the signal mast arm. It looks like a spotlight. Sometimes it's flashing but most of the time it just sits there without lighting up. Am I seeing wrong or what's with this extra light anyway?

I. C. Spotz

The Highway Doctor's diagnosis:

Dear Ms. Spotz:

I just enjoy how my patients are so observant! You are correct in that some of the traffic signals that you see have these additional lights. That spot light you saw is part of an emergency vehicle pre-emption system (EVP). This system allows specially equipped emergency vehicles (which by law are only police, fire or ambulance) to override the traffic signal's regular program and turn green in the direction that the emergency vehicle is traveling. You will know when an emergency vehicle is approaching the signal when you see that extra white light begin to flash. When the white light is lit but not flashing, an emergency vehicle is entering the intersection from your approach.

The emergency vehicle uses an optical transmitter device to activate the pre-emption. This will stop cross traffic from entering the intersection and
conflicting with the emergency vehicle. After the emergency vehicle passes through the intersection, the white light goes out and the signal returns to its normal program and operation. Please note that state law only allows an emergency vehicle from using the pre-emption when responding to an
emergency. Otherwise, they must wait for the signal to turn green on its own just like you and me. Not all signals have this feature, but it is becoming more and more utilized in Anoka County and the entire metro area. Signals near railroad crossings are also typically equipped with EVP. When a train approaches the railroad crossing, it pre-empts the traffic signal so that it can operate appropriately in conjunction with the railroad crossing gate/arm signal.

So don't worry, the spots you sometimes see on signal arms are perfectly normal. In fact, now that you know what it means, you should be on the ready to see an approaching emergency vehicle and stay out of its way. This way, you'll be safer and therefore healthier!

To good health on the highways,

The Highway Doctor

---
4. Stan Lee Cupp wondered if ice was good or bad for his sore muscles, but The Highway Doctor left no doubt that ice is very bad for roads.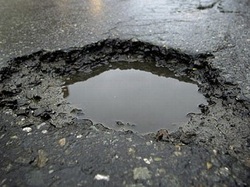 Dear Highway Doctor:

I am a huge hockey fan and I play a pretty mean game too. There is one thing I've always wondered about though. Many times when I crash into the hard ice, I get a big, swollen bruise on my various body parts. I always thought that heat would make my sore muscles feel better, but my trainer always says to put ice on it. It was the hard ice that caused the problem and now I'm using it to help! Can you please help to explain this contradiction?

Stan Lee Cupp

The Highway Doctor's diagnosis:

Dear Mr. Cupp:

Your basic question is whether ice is good or bad? Well as it relates to treatment of a sore or bruise, ice is a very good treatment. A bruise develops when there are numerous microscopic tears in the blood vessels under the skin. The more blood that is leaked, the more swelling and bruising that will develop. Ice is a very effective remedy because it restricts the blood vessels thereby reducing the amount of blood under your skin. Apply an ice bag or cold compress for 10 minutes, then remove for 20 minutes and repeat for a couple of hours after the injury and you'll certainly speed up your
recovery.

But being the Highway Doctor, I cannot always sing the praises of ice. In fact, ice is one of my most dreaded words. Ice is the cause of all those potholes you see, especially in the springtime. You see, while ice acts as an anti-inflammatory and reduces the swelling of your sore body, it
actually causes our highways to swell and cause damage. How does this happen? Well the constant change in weather from hot to cold over the years causes our roads and highways to swell and contract over and over again. This movement eventually causes our pavements to crack. During a cold rain or melting snow, water seeps into these cracks and gets trapped in the pavement layers or subbase. When temperatures drop below freezing, the water starts to freeze as well. Unlike all other elements, water actually expands when it freezes. This causes the pavement to bulge up. When the temperatures warm up and the ice melts, the pavement stays bulged up, but now there is no solid ice supporting it. All it takes is for one car or
truck to hit this bulge and "WHAMMO" – a new pothole is born!

So here's my prescription for you. Ice is good on the rink, on a sore or in your drink, but otherwise I would just give ice the cold shoulder it truly deserves!

To good health on the highways,

The Highway Doctor


---
5. Lead in paint, toys and other items can be bad for your health, but The Highway Doctor explains how LED can be good!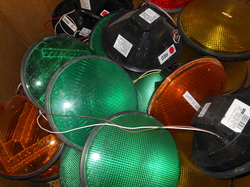 Dear Highway Doctor:

I hope you can clear up something for me and my friend. For years, all we've been hearing about is
how dangerous lead is to a person's health and that's why they've been removing lead from paints, toys, equipment, etc. But now as the holiday season approaches, we keep hearing people talking about switching to "lead" Christmas lights. Aren't we all going to get sick because of this?

Miss L. Towe and Chris Mistry:


The Highway Doctor's Diagnosis:

Dear Ms. Towe and Ms. Mistry:

You are correct in saying that lead can be very harmful. Lead poisoning is a medical condition caused by increased levels of the heavy metal lead in the body. Lead interferes with a variety of body processes and is toxic to many organs and tissues including the heart,bones,intestines,kidneys, and reproductive and nervous systems. It interferes with the development of the nervous system and is therefore particularly toxic to children, causing potentially permanent learning and behavior disorders.

But what you are hearing people talking about is not about lead light bulbs but LED light bulbs. LED stands for light-emitting diode which is a semiconductor light source. LEDs are used as indicator lamps in many devices and are increasingly used for other lighting. Introduced as a practical electronic component in 1962, early LEDs emitted low-intensity red light, but modern versions are available across the visible, ultraviolet and infrared wavelengths, with very high brightness. To be really scientific about it, when a light-emitting diode is switched on, electrons are able to recombine with electron holes within the device, releasing energy in the form of photons. This effect is called electroluminescence and the color of
the light (corresponding to the energy of the photon) is determined by the energy gap of the semiconductor. Huh? Simply put, LED lights run cooler, use less energy and last longer than their incandescent counterparts and that's why many people are stringing LED Christmas lights on their tree, house and other decorations.

Christmas decorations are not the only use for LED lights. Being the Highway Doctor, I would like to mention that most traffic signals are now using
LED lights as well. The new traffic lights you are seeing are made out of arrays of light emitting diodes. Each LED is about the size of a pencil eraser,
so hundreds of them are used together in an array. The LEDs are replacing the old-style incandescent halogen bulbs rated at between 50 and 150 watts. Most counties and cities in the United States are in the process of replacing their incandescent traffic lights with LED units because of three big advantages: 1.) LEDs are brighter - the LED arrays fill the entire "hole" and have equal brightness across the entire surface, making them brighter overall. 2.) LED bulbs last for years - while halogen bulbs last for months. Replacing bulbs costs money for the trucks and people who do the work, and it also ties up traffic. Increasing the replacement interval can save a city or county big dollars. 3.) LED bulbs save a lot of energy - the energy savings of LED lights can be substantial. Assume that a traffic signal uses 100-watt bulbs today. The light is on 24 hours a day, so it uses 2.4 kilowatt-hours per day per signal head. If you assume power costs 8 cents per kilowatt-hour, it means that one traffic signal head costs about 20 cents a day to operate, or about $73 per year. There are perhaps sixteen signal heads per intersection, so that's almost $1,200 per year in power per intersection. LED bulbs consume 15 or 20 watts instead of 100, so the power consumption drops by a factor of five or six. For a county like Anoka County which has over 175 traffic signals the savings can be huge!

So LED is perfectly fine and will not present a health problem for you. And if you switch out your incandescent Christmas lights to LED's, your wallet will be a lot healthier too!

To good health on the highways,

The Highway Doctor

---
6. Looking for an easy way to get stronger? While there may not be a simple solution for people, The Highway Doctor explains how it is easy for our highways!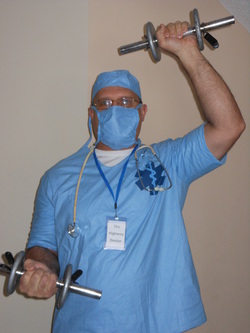 Dear Highway Doctor:

I am urgently writing this letter to you and hope you can help. You see, I've tried all of these new exercise
crazes: free weights, Bowflex, Nautilus, etc. - you name it, I've tried it. But unfortunately none of these have worked for me. But the other day, I was in the offices of my local highway engineer and I overheard someone say that they can make their "system" stronger over the winter without "doing anything". This
sounds like the program for me. But what is it and how do I get it?

Les F. Ort

The Highway Doctor's diagnosis:

Dear Mr. Ort:

You poor misguided soul! Do you really think there is this miracle system out there that will make you stronger that doesn't involve some effort? Of course there isn't! Like I always say,"no pain-no gain!" So let me try to explain what you've probably overheard in your highway engineer's office. The "system" you heard someone speak of is the "highway" system. And yes, in the next several months highway systems in northern climates like ours begin to get stronger.

How is this so? Simple. You see in the next several months our highways will begin to freeze as the temperature drop below 32 degrees. As temperatures get colder and stay cold longer, our highways can freeze 3, 4, or 5 feet or more deep. This is especially true for roads that are plowed clear which remove the insulating effect of the snow. This is why watermains are normally 8 feet below road surfaces. Well anyway, as a road freezes it becomes one big solid chunk of soil, gravel and pavement. This gives a pavement more strength than at any time during the year. In fact, the legal
load limits for trucks are actually increased during the winter months. You can expect a load limit increase of 10% from mid-December through
mid-February in the Metro area although the increase starts earlier and lasts longer the further north you go.

So there you have it - a system that gets stronger for doing absolutely nothing. Unfortunately for you however, while this lessens the impacts of tires on our pavements, it won't lessen that "spare tire" around your waist!

To good health on the highways,

The Highway Doctor

---
7. Hy Pochondriac thought taking more medicine would be better for him, but just like salt on a highway, The Highway Doctor explains that using just the right amount for your situation works best.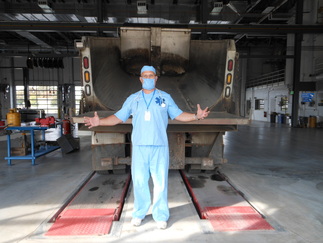 Dear Highway Doctor:

How do you know how much medicine is required to cure a specific ailment? If a little bit is good, is a lot better?

Hy Pochondriac

The Highway Doctor's diagnosis:

Dear Mr. Pochondriac:

The doctor is very glad he paid attention during his bio-chemistry class, because your question is not as easy as it appears. While medicines are used to replace deficient chemicals in the body or to attack disease, these medicines must be prescribed in the proper amount or they themselves can be harmful.

Being the Highway Doctor, this whole issue is very similar to the type and amount of salt and sand we apply to our roads to fight snow and ice. The salt and sand is the "medicine" and the snow and ice is the "disease".

But how do the Highway Department crews know how much "medicine" to prescribe? There are many factors that go into the decisions: air temperature, ground temperature, drifting conditions, amount of direct sunlight, expected snowfall, etc. No two snow events are ever the same,
therefore a different "prescription" of salt and sand may be used for each snowfall.

For example, some loads may be 80% salt and 20% sand, while others may be just the reverse: 20% salt and 80% sand. Also, the application
rate may be different for each event, from 200 pounds per lane mile to 800 pounds per lane mile. So what gets used when? A general rule of thumb is to use a higher percentage of salt but at a lower application rate when temps are warmer and a lower percentage of salt (when it's not very effective) but at a high rate when temps are colder. Again, there are numerous other factors to consider in this evaluation.

In any given day of snow and ice control the Anoka County Highway Department can use well over 1,000 tons of salt. Of course, there are many
snow events where much less salt is used. Over any given year, the highway department can use between 15,000 and 20,000 tons of salt. But because
the right "prescription" is being written for each "disease" the amount of salt used, and money spent, is being kept at the absolute minimum.

So just as the correct medical prescription will make you a healthier person, the correct salt prescription will cure the snow and ice disease with the same effectiveness at the lowest possible cost.

To good health on the highway,

The Highway Doctor
---
8. Have you ever wondered if your skin getting white and flaky in the wintertime is related to roadways getting white and flaky too? The Highway Doctor helps explain these two unrelated issues.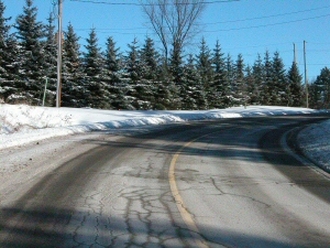 Dear Highway Doctor:

There seems to be two things that I can count on each winter: white, flaky skin and white, flaky highway pavement. Are these two conditions related? And what causes this anyway?

Ichabod"Ichy" Skinner

The Highway Doctor's diagnosis:

Dear Mr. Skinner:

Without too much head "scratching" I think that I can answer both of your questions. First
of all, your white, flaky skin is the result of dry skin. With your heater going non-stop all winter long, the air dries out and subsequently your skin dries out too turning white and flaky. Consider adding a humidifier to your furnace and try using a good skin moisturizer to alleviate your condition.

Now for the second part of your question: what causes the highways to get so white and flaky too? Very simply it's from the residue from salt that was put on the road to fight snow and ice. But why are roads white some days and not on others? This takes a little more explanation.

Salt, or more precisely, sodium chloride (NaCl), is the chemical of choice for highway departments to fight snow and ice because it is cheap, readily available, nontoxic and very effective. When salt is dissolved in water it changes the properties of the water. From a chemistry point of view, the property that road crews exploit is the freezing point depression; i.e. salt makes water freeze at a much lower temperature than regular water. The stronger the solution of salt, the more effective it becomes. But can just adding more salt keep roads from freezing no matter how cold it gets? No – and now we're finally getting to why roads turn white.

You see, the solubility of salt in water decreases with decreasing temperature. At –58 degrees F salting the road is totally pointless (let's hope it never gets THAT cold). But it even becomes impractical from an effectiveness standpoint at around +15 degrees F. When the temperature gets too cold the
salt will leave the solution and reappear on the road as the white, flaky residue that you see. This is why you will see roads look white at 15 degrees but they appear wet at 25 degrees (the "active" salt is pulling the moisture out of the air to remain in solution).

So while the white, flaky condition on your skin may be a bad thing, the white, flaky condition of the highway is actually a good thing as it is the first layer of defense against the next storm. Can you imagine how much moisturizer we would need if it wasn't?!

To good health on the highways,

The Highway Doctor

---
9. Most doctors will tell you that losing a few pounds is better for you, but The Highway Doctor talks about one case where bigger is better!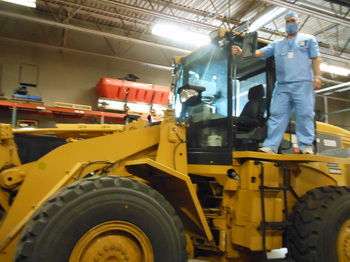 Dear Highway Doctor:

I need a second opinion. My regular doctor said that I needed to lose some weight to stay healthy, but I've heard you say that a "9-ton" road is stronger than a "5-ton" road. I
like your advice better. What gives?

"B.A. "Biggie" Rhodes

The Highway Doctor's diagnosis:

Dear Mr. Rhodes:

What a heavy subject! You are correct in saying that a "9-ton" road is stronger than a "5-ton" road.How can this be? Please allow me to explain.

When we're talking about roads, we refer to the strength of the road by the maximum weight that the road can support under each axle group during the springtime when the roads are at their weakest.On a "9-ton" road for example, the maximum amount of load that each axle group can support is 9 tons or 18,000 pounds per axle.Therefore, the maximum load that a semi-tractor trailer combination (with 5 axles) can weigh in the springtime when road restrictions are on is 9 tons times 5 axles or 45 tons (90,000 pounds).Likewise a "5-ton" road only allows 5 tons per axle, a "7-ton" road allows 7 tons per axle, and so on.

The maximum road loading that County roads are designed for are 10 tons, while some lower volume roads may be designed for 7 tons or less. Remember, this only refers to the load carrying capacity of the road in the springtime when roads are at their weakest condition due to reoccurring freeze/thaw cycles.For most of the year when road restrictions are not posted, vehicles can carry the maximum load allowed under state law on
all roads.

In the design of a pavement, other factors determine how thick the pavement section should be such as traffic volume, percent of truck traffic, life expectancy, sub-grade soil conditions, pavement types, etc. But the road rating is still determined as described above.

So, in the case of your personal health, your doctor's advice was correct and it looks like you will need to shed a few pounds. But when it comes to roads, bigger is definitely better.

To good health on the highway,

The Highway Doctor
---
10. Is your eyesight getting weaker, especially at night? Don't worry - The Highway Doctor tells us that our highway signs are getting stronger and easier to see!
Dear Doctor:

My friend and I are getting older in our years and we are having more and more trouble seeing, especially at night. I know that highway construction season is just starting and we are concerned that we may not be able to safely maneuver our cars when we drive through construction zones this summer. Is there anything you can prescribe to help us with this predicament?

April Showers & Mae Flowers

The Highway Doctor's diagnosis:

Dear Ms. Showers and Ms. Flowers:

Thank you for writing about this very important issue. Highway construction workzones can be a very hazardous place to drive and work, and everyone needs to pay extra attention when within these areas. There is nothing that I can prescribe to you other than to slow down to the posted construction zone speed limit and to pay extra attention to the road within these zones. This is no time to be talking on your cell phone or eating your Big Mac. You need to be prepared for the unexpected. Remember, work zone fatalities involve more motorists than they do construction workers, although both statistics are regrettably too high.

Although I can't prescribe anything more specific for you, the Highway Doctor is pleased to say that highway departments throughout Minnesota, like the Anoka County Highway Department, are implementing numerous safety related plans and specifications to guide you through the workzones in the best possible way. For example, did you know that all signs, barrels and barricades used in workzones use special reflective sheeting that uses a technology known as retroreflection? Retroreflection helps the eye perceive light in low-light conditions. In more scientific terms, retroreflection occurs when light rays are returned in the direction from which they came. A large amount of reflected light is returned directly to the original light source, such as a car's headlights. Since very little light is scattered when the light is returned, retroreflective materials appear brightest to a driver who is directly behind the light source – the car's headlights. This is why traffic control devices "stand out" as you drive through workzones. This is especially important in rural areas where there is no street lighting to help illuminate the work zone. How does this sheeting become retroreflective? Well this sheeting is composed of microprisms formed on a flexible glossy and UV-stabilized polymeric film sealed and backed with a heavy vinyl coated fabric.

Again, even with this new technology, there is still nothing more important than drivers slowing down and being extremely cautious when driving through workzones. The Highway Department will do its part to set up high quality, highly visible traffic control devices and workzones, but it is still your responsibility to drive responsibly and safely.

To good health on the highways,

The Highway Doctor
---
11. Looking for a "sign" to lead you in the right direction? In this article The Highway Doctor shows you how to follow the right path!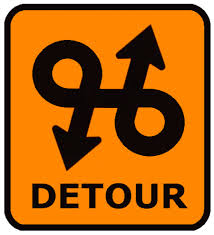 Dear Highway Doctor:
Is there really such a thing as extrasensory perception (ESP)? I thought there was so I've been spending my
whole life waiting for a "sign" to lead me in the right direction. I can't admit that I've seen anything yet and feel like I've wasted a large part of my life. Where can I find a sign to lead me in the right direction?
Anita Sign
The Highway Doctor's diagnosis:
Dear Ms. Sign:
Extrasensory perception (ESP), also commonly referred to as the sixth sense, involves reception of information not gained through the recognized physical
senses
but sensed with the mind. The term was coined by German psychical researcher, Rudolf Tischner, and adopted by Duke University psychologist J. B. Rhine to denote psychic abilities such as telepathy and clairvoyance, and their trans-temporal operation as precognition or
retrocognition. ESP is also sometimes casually referred to as a sixth sense, gut instinct or hunch, which are historical English idioms.
Parapsychology is the study of paranormal psychic phenomena, including ESP. Parapsychologists generally regard such tests as the ganzfeld
experiment as providing compelling evidence for the existence of ESP. However, the scientific community does not accept this due to the disputed evidence base, the lack of a theory which would explain ESP, and the lack of experimental techniques which can provide reliably positive results.
Of course, being
The Highway Doctor
, I can refer you to a real sign that gives you clear direction when there are obstacles in your way: highway
detour signing. There can be no mistaking that we are currently in the middle of construction season here in Minnesota. There are orange barrels,
barricades and signs everywhere. How is a person supposed to get from point "A" to point "B" without having ESP themselves? Detour signing.
Highway engineers, while seemingly the enemy for causing all of these nuisance road construction projects in the first place, try to alleviate any concerns for the delays and rerouting of closed roads with a set of warning, regulatory and guide signs that can help people either avoid getting near a construction site or will at least guide them around or through the construction zone if they get to one. Detour signage is not necessarily designed for the local resident who will always be able to find the best way for them to get in and out of their neighborhood. Instead, detours are primarily for those motorists who may not be so familiar with the local street systems. The posted detour will actively guide them around the closure with as much ease and convenience possible.
So I hope that our local highway engineers will give you all the signs you are seeking to give you clear direction through highway construction zones. But on a more personal level, perhaps you'd be interested in a friend of mine for an even bigger sign – Bill Board!
To good health on the highways,
The Highway Doctor
---
12. Thinking about driving when you're tired? You may reconsider after The Highway Doctor sheds some light on this potentially dangerous action.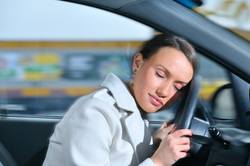 Dear Highway Doctor:

I have just been told by my regular physician that I have a condition called sleep apnea. When I told him that I was an over-the-road truck driver he seemed very concerned. Why would it matter what my job is if I have this condition?

Van Winkle

The Highway Doctor's diagnosis…

Dear Mr. Winkle:

Sleep apnea is a type of sleep disorder characterized by pauses in breathing or instances of shallow or infrequent breathing during sleep. Each pause in breathing, called an apnea, can last from at least ten seconds to minutes, and may occur 5 to 30 times or more an hour. An individual with sleep apnea is rarely aware of having difficulty breathing, even upon awakening. Symptoms may be present for years (or even decades) without identification, during which time the sufferer may become conditioned to the daytime sleepiness and fatigueassociated with significant levels of sleep disturbance.

Sleep apnea patients complain about excessive daytime sleepiness and impaired alertness. In other words, common effects of sleep apnea include daytime fatigue, a slower reaction time, and vision problems. This is why your doctor was very concerned about your profession as a driver.

Being The Highway Doctor I have some very serious concerns as well. The National Highway Traffic Safety Administration reports that about 2.5% of all traffic fatalities involve drowsy driving. This is a preventable situation. According to the National Sleep Foundation and the Centers for Disease Control, here are the numbers on drowsy driving:

0.10 The blood alcohol equivalent in impairment to a person who hasn't slept for 24 hours.
18-29 Ages of drivers at highest risk for drowsy driving; 71% are likely to drive this way.
56% Percentage of drowsy drivers who are men.
23% Percentage of adults who know someone who has been involved in a drowsy driver crash.

Several states are revising laws to deal with this preventable situation. Under Arkansas' new law, drivers found guilty of fatigued driver can now be charged with negligible homicide. New York is looking into requiring certain people to be screened for sleep apnea when applying for a commercial driver's licenses. Commercial drivers with the disorder are particularly high risk for drowsy driving due to long hours on the road, and individuals with untreated sleep apnea are two to seven times more likely to be involved in a crash according to the Federal Motor Carrier Safety Administration. Other states are attacking the problem through public education campaigns to call attention to the problem and educate drivers on ways to avoid it.

I hope you now realize why your physician was concerned about condition as it relates to your profession. I also hope you get the proper treatment and don't decide to do nothing or "sleep on it"for the next twenty years. If you cause a crash, those twenty years could be spent behind bars.

To good health on the highways,

The Highway Doctor
---
13. Think your road is exploding this spring? You may be right as The Highway Doctor explains below!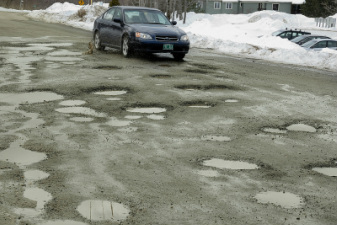 Dear Highway Doctor:

For most of the year the roads that I drive are very smooth, but every spring the roads seem to explode. I would expect that the winter would affect the roads, but not in the spring when the weather starts getting better. Could you please explain this highway ailment?

R.U. Patchin





The Highway Doctor's diagnosis:

Dear Mr. Patchin:

Just as people have to survive the cold and flu season, roads too must stay healthy and physically fit to withstand "pothole" season, which typically runs from early March through mid-May. It was a good thing that the Doctor paid attention during anatomy class because this is one disease that the Doctor is all too familiar with. Simply stated, the anatomy of a pothole looks something like this:

Potholes are caused when the pavement or the material beneath it cannot support weight of the traffic it carries. First, traffic or the bitter cold causes the pavement to crack – usually unseen hairline cracks - that given time, will develop into larger, more visible cracks. Water worsens the cracked pavement problem. Ideally, water should roll off the impervious pavement surface, but when water seeps into the cracks on a road it can attack the subbase and soften it. Over a period of time, the subbase material can shift or ooze to the side leaving nothing to support the pavement. Then, after repeated poundings from traffic, the pavement finally weakens and gives way causing the pothole. Here in Minnesota, the process just described is dramatically accelerated due to freeze/thaw action. The water in the subbase freezes and like a bottle of pop put in the freezer by mistake, expands pushing the pavement up. When the ice ridge melts, the now unsupported pavement is a sitting duck waiting for the next truck to pound it out causing the pothole.

Just like getting a flu shot, there are preventative measures that can help a roadway from developing a full-blown case of potholes. Good construction practices can alleviate many drainage problems. Proper structural design and periodic overlays can give the pavement the strength to withstand heavy loads during the critical spring months. Routine crack sealing and patching along with surface seals like sealcoats can keep the surface watertight. Finally, posting weight restrictions during the spring can further aid roads during the most damage susceptible months.

So there you have it, everything you wanted to know (and probably more) about potholes. Hopefully, with the right prescription of pavement strength, preventative maintenance, and some help from Mother Nature, we can keep our highways healthy for a very long time.

To good health on the highways,

The Highway Doctor


---
14. Here's an interesting article from someone with a holiday connection!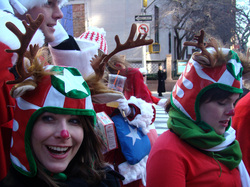 Dear Doctor:

I hope you'll be able to help me with my condition. I am very active in sports and for some reason I get a very red nose sometimes. It gets so bad that my teammates will laugh and call me names. In fact, they
won't even let me play in their games anymore. I feel like a misfit and want to run away, but wanted to reach out to you first. Help!

Rudolph R. Deer
North Pole

The Doctor's Diagnosis:

Dear Mr. Deer:

Red nose is a common symptom of emotions, infection, temperature changes, or even physical irritation. Red nose results from a rapid reddening of the face in response to strong emotions, such as embarrassment, anger, or high excitement. Red nose is also caused by conditions affecting the nose itself or in association with more generalized conditions, such as hay fever, common cold (viral respiratory infection), high fever (higher than 101 degrees Fahrenheit), eating hot or spicy foods, or drinking alcohol. Occasionally, red nose is associated with rosacea (inflammatory skin condition affecting the face).

Infection is a common cause of red nose. This includes any condition that is associated with a high fever (higher than 101 degrees Fahrenheit) and may be accompanied by flu-like symptoms, including fatigue, fever, sore throat, headache, cough, aches and pains. Hot flashes due to menopause can also result in flushing of the face and a red nose. Depending on the cause, red nose may occur one time, periodically, or be ongoing. Red nose can also
be caused by medications, including some diabetic and cholesterol-lowering drugs. Sildenafil (Viagra) can cause facial flushing with a red nose. The
vitamin supplement niacin is another cause of red nose.

Where else can you see a lot of red? As The Highway Doctor I have to point out that red is a very common color in controlling traffic on our streets and highways. In the traffic world, red has a very specific meaning. Red almost always means stop! A red traffic sign either signals you to stop your vehicle or prohibits entry. The most obvious use is for STOP signs, but you will also see red in YIELD signs, DO NOT ENTER signs, WRONG WAY signs, and on multilane supplemental plates.

The use of the color red is not just limited to signs either. Red of course is a very common color on our traffic signals and again means stop. And why are emergency flashers on police, fire and ambulances red too? Because red requires you to stop and pull over.

So by now I hope you can see that red is a very important color on our highways. But getting back to your red nose condition, the treatment is very
dependent of the type and cause of your condition. If it is caused by the stress of driving on congested or snowy highways this time of year, maybe a good anti-anxiety medication may help. And maybe if everyone would "see red" better (as in stop signs and red lights), then maybe traffic wouldn't have to cause you to "see red" (getting frustrated) anymore!

To good health on the highways,

The Highway Doctor


---
15. Don't crowd the cloud!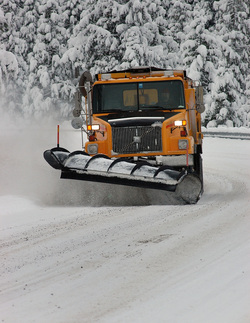 Dear Doctor:

I hope you'll be able to help me with my condition. It seems to be a seasonal condition that affects my eyesight during the winter. You see, many times I will be driving around town on the freeway or local streets and all of a sudden my eyesight becomes quite blurry and distorted. This doesn't seem to happen in the warmer months of the year so I'm a little perplexed at what this could be. Any help you can provide would be greatly appreciated!

Fuzzy I. Site

The Doctor's Diagnosis:

Dear Mr. Site:

Blurred vision can be an important indicator of eye disease. It can affect one eye or both eyes, and whether it occurs often or rarely, it should never go untreated. If your vision is blurry, you are unable to see fine details, and the lack of sharpness can be frustrating. Vision loss such as blindness, double
vision, or blurry vision can mean any of a number of different things, ranging from dry eyes or glaucoma to migraines or retinal detachments.

Blurred vision can be a sign of an underlying problem. Of course people who forget to wear their prescribed corrective lenses experience blurry vision, but it's not always that simple. There is a long list of possible causes of blurry vision including the need for corrective lenses, or a new lens prescription; a diminishing ability to focus; glaucoma, cataracts, or macular degeneration; dry eyes; migraines; cataracts; dirty contact lenses; or sometimes medications cause blurry vision.

If blurred vision is accompanied by the symptoms listed above, you should consider contacting your eye doctor for a check-up. If medication has caused the blurry vision, do not discontinue or switch medications before seeing your eye doctor. If you are having eye pain and the eye is red, call your eye doctor immediately. Partial or complete blindness, even if it is temporary, should never be ignored and should be considered a medical
emergency.

But maybe it's just a hunch of mine, but when you say that you only have this problem in the winter, I am inclined to suspect that you are simply driving too close behind a snowplow truck! You see, when a snowplow truck is plowing snow, it can create a large snow "cloud" behind it which can
not only blur your vision, but make some hazards on the road totally impossible to see at all!

Snowplows travel much slower than the posted speeds because it is most effective for clearing roads. The driver's field of vision is severely restricted behind the truck, and the driver must rely on mirrors to see to the rear and side of the truck. Remember to:

Be patient, and remember snowplows are working to improve road conditions for your trip.
Stay back at least five car lengths behind the plow, far from the snow cloud. If you can't see the driver's side rearview mirrors then they can't see
you.
Stay alert for snowplows that turn or exit frequently and often with little warning. They also may travel over centerlines or partially in traffic to further improve road conditions. They also swerve side to side to avoid roadside structures such as mailboxes, guardrail, signs and other
objects.
Slow down to a safe speed for current conditions.
Never drive into a snow cloud.

Here are some other safe winter driving tips for motorists even if you aren't behind a snowplow:


In Minnesota, call 511 or visit www.511mn.org before leaving on your trip to get current road conditions.
Turn on your headlights and wear your seat belt.
Turn off your cruise control.
Clear snow and ice from all windows and lights - even the hood and roof- before driving.
Leave plenty of room for stopping.
Use brakes carefully. Brake early. Brake correctly. It takes more time and distance to stop in adverse conditions.
Bridge decks freeze first. Due to the difference in the exposure to air, the surface condition can be worse on a bridge than on the approach
road.
Exit ramps are an even greater challenge during the winter since they may have received less anti-icing material than the main line. Be aware of this when exiting the highway.
Don't get overconfident in your 4x4 vehicle. Remember that, if you are driving a four wheel drive vehicle, the vehicle may help you get going quicker but it won't help you stop any quicker. Many 4x4 vehicles are heavier than passenger vehicles and actually may take longer to stop. Don't get overconfident in your 4x4 vehicle's traction.
Look further ahead in traffic than you normally do. Actions by cars and trucks will alert you quicker to problems and give you a split-second extra time to react safely.
Remember that trucks are heavier than cars. Trucks take longer to safely respond and come to a complete stop, so avoid cutting quickly in front of them.

Winter driving requires motorists to be careful and alert, but the most important tip for winter driving is: SLOW DOWN! The Minnesota Department of Transportation has put together a very informative YouTube video that describes the hazards of driving in snow storms called "Anatomy of a Winter Storm" which can be seen at https://www.youtube.com/watch?v=v7PcbcQ_jA0. Please check it out.

So there you have it – all the tips you need to have a safe drive this winter. And if this is too much info and you can only remember one thing please
just remember this simple jingle: "Don't crowd the cloud!"

To good health on the highways,

The Highway Doctor



---
16. Feeling a litte green lately? See what The Highway Doctor has to say about that!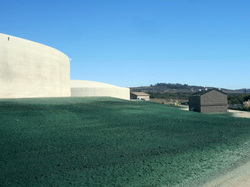 Dear Doctor:

I hope you'll be able to help me with my condition. I don't know what's going on, but lately my skin has begun to turn a sickly pale of green. Before you think that I might be turning into the Hulk or something, let me tell you that I'm feeling quite the opposite – I have a severe lack of energy and shortness of breath.I have big plans coming up and I want to make sure I'm ready for them, so any help you can provide would be greatly appreciated!

S. Patrick Day

The Doctor's Diagnosis:

Dear Mr. Day:

Other than your eye color, green in the human condition is not normal and can present a host of issues.While green vomit or stool may indicate less serious digestive causes, green skin is a whole other condition, but my guess is that it's a type of hypochromic anemia.Hypochromic anemia is a generic term for any type of anemia in which the red blood cells are paler than normal. (Hypo- refers to less, and chromic means color.) Hypochromic anemia was historically known as chlorosis or green sickness for the distinct skin tinge sometimes present in patients.Other and more general symptoms include a lack of energy, shortness of breath, dyspepsia, headaches, a scanty appetite and amenorrhea.

Hypochromic anemia may be caused by vitamin B6 deficiency from a low iron intake, diminished iron absorption, or excessive iron loss. It can also be caused by infections (e.g. hookworms) or other diseases, therapeutic drugs, and lead poisoning. It may also occur from severe stomach or intestinal bleeding caused by ulcers or medications such as aspirin or bleeding from hemorrhoids.

Being The Highway Doctor, all of this talk about green skin makes me think about a different kind of green skin that our highway professionals use quite frequently
on their highway projects – hydro seeding.Hydro seeding (which is sometimes also called hydraulic mulch seeding, hydro-mulching, or hydraseeding) is a planting process in which a slurry containing seed, hydro seeding mulch, fertilizer and a tackifier (bonding agent) is sprayed onto the ground. A green dye is also added
to the mixture for aesthetics and to allow the applicator to see where they have treated an area.The slurry is transported in a truck or trailer mounted tank to the job site and sprayed over prepared ground in a uniform layer. Hydro seeding offers many advantages to the traditional process of broadcasting or sowing dry seed. It promotes quick germination and inhibits soil erosion. It is also a very cost effective alternative to sod and offers a significant cost savings as well as many other
benefits.

Virtually any grass or erosion control seed that can be planted by seed can be hydro seeded. This includes any sun or shade lawn seed, athletic field mixes, pasture
mixes, native grasses, wildflowers, roadside mixes and erosion control mixes. What are the benefits of hydro seeding?Cost Efficient – hydro seeding is half the cost of sod, including the delivery and labor. Water retention - because cellulose mulch fibers can retain up to 10 times their weight in water, seeds are kept moist. The end result is a savings in labor and watering costs. Soil Retention - cellulose fiber mulch helps prevent wind and water erosion. Additional soil stabilization additives are added for slope erosion control.Seed protection - cellulose fiber mulch protects young seeds from the scorching sun and helps maintain soil temperature. It forms an almost perfect environment for maximum seed germination.Natural - as seeds develop, the mulch fibers will gradually decompose and add nourishment to the soil without messy clean up or the need for straw removal. And because of its organic composition, it is safe for animals and wildlife.

But getting back to your condition, I suggest a trip to your doctor for a complete diagnosis and cure. And with St. Patrick's Day just around the corner on March 17th, don't be too surprised to see many green faced revelers out partying the night away.So get well soon or you'll be stuck at home green with envy!

To good health on the highways,

The Highway Doctor


---
17. Is laughter the best medicine? It couldn't hurt!
Dear Doctor:

I recently heard that laughter is the best medicine. So why are my health insurance rates still so high?

April Fuhlsday

The Doctor's diagnosis:

Dear Ms. Fuhlsday:

Yes, you are correct –some researchers do think that laughter does make you feel better. However, other researchers aren't sure if it's actually the act of laughing that makes people feel better or if it's just that people that are
predisposed to having a good sense of humor and a positive attitude are that way because they are healthier to begin with. But the fact remains that we do have physiological changes when we laugh – we stretch muscles, our pulse and blood pressure increase, and we breathe
faster, sending more oxygen to our tissues. Pretty much the same as exercise!

Being The Highway Doctor, I can assure you that some people in our transportation industry also have a sense of humor. Remember those highway worker jokes? Ques.: What's big and orange and sleeps six? Ans.: A highway department dump truck. Transportation devices are also good fodder for jokes too. Ques.: Why did the traffic signal turn red? Ans.: You'd turn red too if you had to change in the middle of a busy intersection!

And now that we're heading into construction season, I thought it would be timely to share some "Construction Definitions". Enjoy!

Engineer's Estimate.........The cost of construction in heaven.
Bid Opening....................A poker game in which the losing hand wins.
Bid...................................A wild guess carried out to two decimal places.
Low Bidder.....................A contractor who is wondering what he left out.
Contractor.......................A gambler who never gets to shuffle, cut or deal.
Critical Path Method.......A management technique for losing your shirt under perfect control.
Completion Date.............The point at which liquidated damages begin.
Liquidated Damages.......A penalty for failing to achieve the impossible.
Delayed Payment...........A tourniquet applied at the pockets.
Auditor............................People who go in after the war is lost and bayonet the wounded.
Lawyer........................... People who go in after the auditors and strip the bodies.
OSHA.............................A protective coating made by half-baking a mixture of fine print, split hairs, red tape, and baloney applied at random with a shot gun.
Project Manager……… The conductor of an orchestra in which every musician is in a different union.
Strike………………….. An effort to increase egg production by strangling the chicken.

So there you have it - a complete list of construction definitions. I hope you find them useful. Oh, and by the way, you don't need a prescription for laughter!

To good health on the highways,

The Highway Doctor
---
18. Are you hooked on fishing?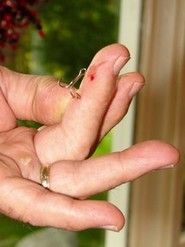 Dear Doctor:

I am heading up to the lake this weekend for fishing opener but before I go I would like some advice. You see, I always seem to stick myself with a fishhook every time I go out and the emergency room is pretty far away from where I'm going. Is there a good way to remove embedded hooks myself?

Gil Angler


The Doctor's diagnosis…

Dear Mr. Angler:

What a great and timely question! Many anglers will be carrying on long family traditions and your question is one that many of my readers should know about. With large fishhooks, deeply embedded fishhooks that seem immovable (or near bone, eye, organ or artery), or treble hooks with multiple penetrations, it's advisable to simply go to the emergency room. If you are not in range of professional medical help and you have a superficial penetration such as a puncture on a finger, you can try removing the hook yourself. The best way to remove a fishhook is not by backing it out unless the hook has no barbs. Backing out a fishhook could cause more damage since you would be going against the barb. Instead, push the fishhook in the direction of least resistance (moving the tip of the hook forward). Then when the barbed portion is fully exposed, use clippers to cut-off the barb. At this point you can back the hook out. Treat the injury by thoroughly cleaning and disinfecting it. After your trip, make sure you have had a tetanus booster and it is always best to follow-up with your doctor.

Being the Highway Doctor, all of this talk about fishhooks has made me think about a new type of intersection that highway engineers are using more and more. It is called the fishhook or more commonly the "J-Turn Intersection". The J-turn intersection improves operation of the major street through movement, and also reduces delay for left turns off the major road. The J-turn intersection, shown in the accompanying graphic, is similar to the median U-turn crossover in that an indirect maneuver is accomplished with a U-turn in the median. With a J-turn intersection, crossroad drivers cannot proceed straight through the intersection. A through movement is accomplished by turning right onto the major road, turning left through the crossover, and turning right again back onto the minor road. Also, as with the median U-turn design, drivers are not able to turn left from the crossroad onto the major road, and a median U-turn is used to accomplish the left-turn maneuver. Left turns from the major road are direct.

So now you have two fishhook solutions: one to get a barb out of your finger and one to get you safely onto or across a busy highway!

To good health on the highways,

The Highway Doctor

---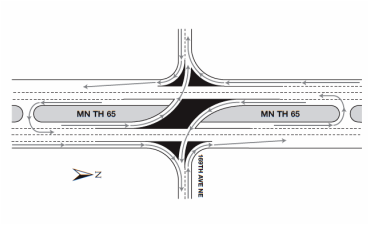 19. Do you need an energy boost?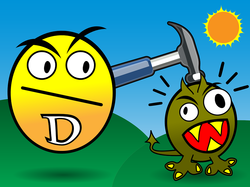 Dear Doctor:

I was telling a friend of mine how I was feeling tired and mentally "blah" and she suggested that I have my vitamin D levels checked. My bones are fine so why would I need to check my vitamin D levels for a mood issue?

Dee Ficiency



The Doctor's diagnosis…

Dear Ms. Ficiency:

If you shun the sun, suffer from milk allergies, or adhere to a strict vegetarian diet, you may be at risk for vitamin D deficiency. Known as the sunshine vitamin, vitamin D is produced by the body in response to sunlight. It is also occurs naturally in a few foods and in fortified dairy and grain products.

Vitamin D is essential for strong bones because it helps the body use calcium from the diet. Traditionally, vitamin D deficiency has been associated with rickets, a disease in which the bone tissue doesn't properly mineralize, leading to soft bones and skeletal deformities. But increasingly, research is revealing the importance of vitamin D in protecting against a host of medical and psychological consequences. Every tissue in the body has vitamin D receptors, including the brain, heart, muscles, and immune system, which means vitamin D is needed at every level for the body to function.

Seasonal Affective Disorder (SAD), a mood disorder featuring depressive symptoms, occurs during the dark times of the year when there is relatively little sunshine, coinciding with the sudden drop in vitamin D levels in the body. Several studies have suggested that the symptoms of SAD may be due to changing levels of vitamin D, which may affect serotonin levels in the brain.

Although vitamin D supplementation may improve mood, vitamin D is only a small, but critical, part of treatment as depression has myriad causes. However, vitamin D deficiency impairs and prolongs recovery from depression. Please see your physician for more info on vitamin D deficiencies.

But being The Highway Doctor all of this talk about vitamin D supplements reminds me of another kind of supplement – a supplement for salt being used by highway departments. While most highway departments use regular salt (NaCl - sodium chloride), this salt loses effectiveness as the temperature gets colder, especially when temps drop below 15 degrees. So how do road crews fight snow and ice in a winter like this where we've been consistently below zero? Well that's where salt "supplements" come in. There are many different brands out there with trade names such as Road Guard 8 or ClearLane. These products are developed specifically for extremely low temperatures, with the ability to aggressively melt snow and ice down to -49°F. The active ingredients for these de-icing supplements are usually calcium chloride, magnesium chloride, alkaline chlorides or some combination of these chemicals. The problem of using these chemicals alone is that they are highly corrosive, so the supplements that highway departments use also have highly effective corrosion inhibitors. This not only protects our roads and bridges, but your car as well.

These supplements can be applied directly to a roadway in solid or liquid form but to get the biggest bang for the money, it is very effectively applied to the lower cost road salt to maximize its deicing capabilities while keeping costs in check.

So if all this cold, dark and snowy weather is making you feel a little down, go have your vitamin D levels checked. If you have a deficiency, do like your highway department and get a good supplement. It could be the road to better health.

To good health on the highways,

The Highway Doctor
---
20. Are you a gambler?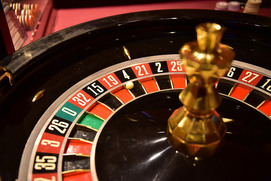 Dear Doctor:

My wife and I are just a bundle of nerves. You see, we just came from a trip driving across the metro area and we got caught in some snowy weather. If it wasn't bad enough "white-knuckling" it on the slippery roads, we were constantly being passed by SUV's and other 4WD vehicles. They totally unnerved us by how fast they went. Any advice for us to calm us down?

Willy Maykit/Betty Wont


The Doctor's diagnosis:

Dear Willy and Betty:

I am sorry to hear that you had such a stressful drive. Even though our highway crews try their best to keep the highways free and clear of ice and snow, there are times when Mother Nature wins out and the roads do get very treacherous.

My remarks here today are not directed towards you, but to all of those reckless drivers you noted. According to Minnesota law, drivers are required to reduce their speed according to the conditions of the roadway. Minnesota Statute 169.14 states, "No person shall drive a vehicle on a highway (or other roadway) at a speed greater than is reasonable and prudent under the conditions." Motorists should be aware that the posted speed limit assumes ideal driving conditions. When driving conditions are poor, and drivers fail to reduce their speed accordingly, a ticket for "unsafe speed" may be issued for speeds less than the posted speed limit.

If we can keep getting this word out I am hopeful that your drives in the snow will be less stressful. But if careless drivers do continue to drive faster than the conditions warrant, perhaps your only relief will be the satisfaction you'll feel when you eventually see their car in the ditch later down the road!

To good health on the highways,

The Highway Doctor


---
21. A penny for your salts?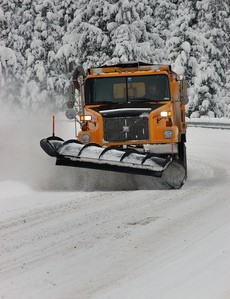 Dear Doctor:
I slipped on the ice the other day and severely sprained my ankle. My urgent care clinic wrapped it in some elastic wrap which I expected but then told me to soak my ankle in Epsom salts frequently throughout the day as well. Is my doctor stuck in the Dark Ages or what? I thought this type of treatment went away years ago. My boyfriend and I would like to know if we're getting ripped off.
I. Feldown & Lord Howitt Hertz
The Doctor's diagnosis:
Dear Ms. Feldown & Mr. Hertz:
With the creation of new medicines, treatments, tonics, rubs, sprays, soaks and other aids, many people have lost sight of the fact that before all of the fancier products came along, the old-fashioned products were what did the trick for most people. The newer products might come in fancier packages, have added aromas or come with sparkles and colors, but stripping all of that away, you end up with the underlying ingredient which is the one that works. Some of these main ingredients have been around for many years and in their plain form are all but forgotten by most people, but still work very well. Among these products are
Witch Hazel
, Isopropyl Alcohol and as you were prescribed: Epsom salts.
Did you know, for instance, that soaking a splinter in Epsom salts can release the splinter and help the area to
heal
? Many people know that Epsom salts work to relax tight
muscles
, and are found in many bath salt products, but Epsom salts actually have dozens of healthful benefits. Epsom salts - magnesium sulfate - are a natural way to treat
skin problems
, relax the nervous system, and draw toxins from the body. Soak aching, tired feet in a pan of water with half a cup of Epsom salts and not only will your feet feel better, but they'll smell better too. Epsom salts work to neutralize odor and soften skin. Soak feet until they feel better then rinse and dry well. A full bath should contain 2 cups of Epsom salts for
relief
of tired feet, back muscles, legs or just as a way to have softer skin.
Being the Highway Doctor, I would be remiss in not talking about another excellent use of salt – deicing roads! We are all familiar with the application, but how does it all work? Please allow me to explain. The typical deicing road salt is sodium chloride (NaCl). Salt added to ice will lower the freezing point of water. Thus water, which normally freezes at 32F, with salt added will freeze at a lower temperature. So salt doesn't actually "melt" the ice and snow, it just allows the water to exist as a liquid near its freezing point rather than a solid.
Ice is solid water vapor / water system in equilibrium. Adding salt to the system disrupts the equilibrium by increasing the number of particles in the vapor. So the ice melts to re-establish the equilibrium of the vapor. The idea too is that the added particles disrupt the solid water bonds, where the water and salt dissolve into one another, creating a solution with a lower freezing point. Ice forms when the­ temperature of water reaches 32 degrees Fahrenheit (0 degrees Celsius). When you add salt, that temperature drops: A 10-percent salt solution freezes at 20 F (-6 C), and a 20-percent solution freezes at 2 F (-16 C). This is all theoretical of course. In all actuality salt loses its effectiveness rapidly at temperatures below 15 F or so. Below this temperature, many highway departments will use other chemicals which lower the freezing point of water even lower that sodium chloride. Some other de-icing compounds are magnesium chloride MgCl2 which works to 5°F and calcium chloride (CaCl2 ) which works to -20°F.
So no, your doctor is not ripping you off with his Epsom salt prescription. But be careful when you pour your salt in the soaking tub: if you spill salt you're welcoming the devil, but if you throw salt over your shoulder you are throwing it in his eye which makes him go away. Maybe that's why we call our snowplow trucks "holy rollers"!
To good health on the highways,
The Highway Doctor
---
22. ​True love?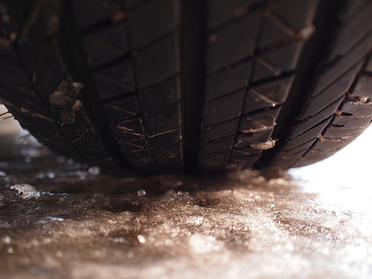 Dear Doctor:
I am so depressed that I don't know what else to do or who to turn to, so I hope you can help me. Valentine's Day is this month. In the days leading up to the big day, I was trying to figure out what my boyfriend was going to get me. He threw out some hints like, "It's round", and "It's got a hole in it", and "I'm getting this for you because I love you so much I want to be with you forever." Of course I thought he was going to give me an engagement ring, but instead he bought me a new set of tires for my car! I'm totally beside myself and need some emergency intervention. Help!
Val N. Tines
The Doctor's diagnosis:
Dear Ms. Tines:
While I'm sure you are disappointed in the gift you received you should be comforted in the fact that the gift your boyfriend gave you was actually a very loving gift! Before you start railing against me too, please allow me to explain. Of the various mechanical problems in vehicles that can cause crashes, tire-related crashes can have some of the most serious consequences. A tire blow-out can cause a driver to lose control of the car which can lead to fatal rollovers and other tragic results.
If the tires on your car were worn, mismatched and even inflated improperly, you were at risk. The gift of a new set of tires by your boyfriend while unsentimental, may be one of the most loving gestures he could have given to you. And now that you have a new set for your car, here are 10 recommended checks you should do periodically to ensure the best performance and safety of these tires:
1. Check tire pressures and adjust at least once a month.
According to studies conducted by the National Highway Traffic Safety Administration (NHTSA) on tire-related crashes, the leading cause of tire failure is underinflation. Underinflation can have many causes, including a gradual loss of pressure through membranes in the tire itself. Underinflation has immediate effects on vehicle handling (as well as fuel consumption), but its potential impact on overall safety and tire life are even greater. It is imperative to check and adjust tire pressure at least once a month and before every long trip (over 250 miles). Recommended pressures are printed on a label located on the driver's doorframe or in the glove box.
2. Inspect tires regularly for abnormal wear or damage.
To ensure maximum tire life and safety, give your tires a visual inspection at least once a month and before long trips. This is easily done at the same time you check pressures. In general, external "plugs" are not recommended. Repairs should be made from the inside, and a complete inspection made while the tire is off the rim. Sealing compounds and other emergency aids should be treated only as a means of moving the vehicle to a safe location for repair
3. Rotate tires every 6,000 miles or according to owner's manual.
Tire rotation is essential to achieve even tread wear and maximum tread life. On front-wheel-drive cars, for example, most of the braking, steering and driving forces are carried by the front tires, which inevitably wear much faster. A "cross-rotation pattern"—that is, moving the left-front tire to the right-rear axle, the right-front tire to the left-rear axle, etc.—can best balance tread wear and maximize tire life. That sequence can be performed on any vehicle equipped with four non-unidirectional tires. Designated by an arrow on the sidewall, unidirectional tires must be rotated only front to rear and rear to front, on the same side of the vehicle, so their direction of revolution does not change. All-wheel-drive and four-wheel-drive vehicles are best suited to a lateral rotation—left to right and right to left—at the same end of the vehicle.
4. Maintain tires in proper balance.
Out-of-balance tires can not only cause uneven tread wear and an uncomfortable ride but also excessive wear on the suspension and other components. An out-of-balance tire can be detected by a severe thumping, usually most pronounced at highway speeds.
5. Maintain steering and suspension in proper alignment.
Misalignment of the steering and suspension, either front or rear, can not only adversely affect the steering feel and stability of a vehicle, but also cause rapid and uneven tire wear. If not corrected, this misalignment can ruin a tire in a short time and distance.
6. Never overload a tire.
Overloading is the second leading cause of tire failure, next to underinflation. All tires are designed to operate within a maximum load range designated by a code on the tire sidewall. Exceeding this can result in both excessive wear and reduced tire life due to structural damage, including the potential for sudden failure. In most vehicles, the maximum passenger and cargo load for which the vehicle and tires are designed is printed on the same label that designates recommended tire pressures. That load, particularly in the case of trucks and SUVs,
may be substantially less than the vehicle is physically able to contain
. It is critical that the maximum allowable load never be exceeded. When determining the actual load in your vehicle, don't overlook the tongue-weight of a trailer if you are trailer towing, since it also acts directly on the vehicle's tires.
7. Avoid overheating tires.
Heat, like load, is the enemy of tire life. The higher the heat it is subjected to, the shorter the tire's life—in terms of both tread wear and structural resistance.
High speeds
, high loads, underinflation, coarse pavement or concrete, and aggressive driving, including high cornering loads and hard braking, all contribute to high tire temperatures. Combined with high ambient temperatures and continuous use, they can create extreme circumstances and cause sudden tire failure.
8. Replace tires when required.
Your vehicle's tires should be replaced if any portion of the tread is worn to the "wear indicator bars"—lateral bars molded into the tire grooves at about 20 percent of their new tread depth—or to a depth, as measured in a groove, of 1/16th inch or less; tread wear is severely uneven (in which case have the wheel alignment checked) or the center is worn much more than the edges (be more vigilant about tire pressures); the tire sidewalls are severely cracked or there are bulges anywhere on the tire; there is any indication of tread separation from the tire carcass; or the tire has been punctured and cannot be satisfactorily repaired.
9. Install tires in matched pairs or complete sets.
Installing different tires on the left and right sides can significantly upset the handling balance of a vehicle—not to mention its ABS operation. For that reason, it is imperative that tires be installed in front or rear pairs, or complete sets. Those pairs should be the same construction, size, brand and type, with approximately the same tread wear. In most cases, if you have to buy one new tire, you should buy a pair. If you replace only two, the new tires should generally go on the rear wheels, regardless of whether the vehicle is FWD, RWD, or AWD. Under no circumstances should you have tires of different construction (radial and bias ply) or different classification (all-season and winter) on opposite ends or sides, since handling can be adversely affected.
10. Select the right tires for your vehicle and driving environment.
Recent improvements in "all-season" tires have substantially advanced the concept of one-tire-for-all-needs. On the other hand, more specialized tires than ever are now available for high performance, rain, snow, ice, off-road and touring. Some are even uni-directional, "run-flat" and even "green." Most drivers are happy just to know they have "all-season" tires, and that is the way most new vehicles are equipped.
In conclusion, I know that you may be disappointed by not receiving a ring on Valentine's Day and you may be very upset with your boyfriend right now, but be patient and know that his gift was a very loving one. If however he never does propose sometime soon, at least if he tells you to
hit the highway
or he
drives
you into someone else's arms, your new set of tires will ensure that you'll be doing it in the safest way possible.
To good health on the highways,
The Highway Doctor
​​
---
23. I'll Drink to that!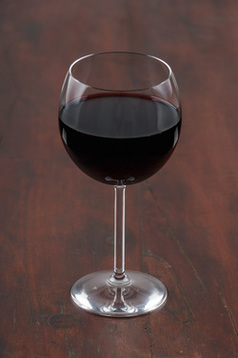 Dear Doctor:

I keep hearing conflicting information on this issue and hope you're the one that will be able to settle this once and for all? Is a glass of red wine each day good for you or not?

Merle Lowe

The Doctor's Diagnosis:

Dear Mr. Lowe:

Thank you for asking this question and for thinking that I'd be the source to answer it once and for all, but just like many of these health and diet related questions once again the answer is yes AND no. At debate is whether it is the alcohol in general or the red wine specifically that provides the benefit. Red wine is normally stated as the cause of this health benefit because it contains the antioxidant resveratrol. However, while red wine does may be your preference any alcohol in limited quantity will provide the same health benefit.

So what are the benefits of a moderate amount of alcohol? First of all, it can be improve heart health. Alcohol can have a very powerful effect and increase HDL "good" cholesterol by 20% if used moderately and in the context of a healthy diet along with regular physical activity. Higher HDL levels are linked to lower risks of heart disease.

Alcohol may help control how much you eat and thus consume less calories overall which can also have significant health benefits. When alcohol is mixed with food, it can slow the stomach's emptying time and potentially decrease the amount of food consumed at the meal. Again, there is a misperception that red wine is the preferred choice of alcohol because it is abundant in antioxidants. It does contain some, but they are not always well absorbed. If you want antioxidants, you are better off eating a spinach salad with vegetables than drinking a glass of red wine.

Another health benefit comes from a recent study that shows a boost in brain power for women who enjoy a little alcohol. Moderate drinkers scored better than teetotalers on tests of mental function. Researchers found a boost in brainpower with one drink a day. Moderate drinkers had a 23% reduced risk of mental decline compared with nondrinkers.

A little may be good but too much alcohol can lead to serious problems. And don't even think that saving all of your weeks' worth of drinks for one night of binge drinking will have the same benefit as a drink a day – it doesn't and actually could have serious impacts to your health.

Being The Highway Doctor, let me talk about one of the serious impacts of too much alcohol at one time – drunk driving. Drinking and driving continues to be a serious problem in Minnesota and across the nation. According to the latest version of "Crash Facts" published by the Minnesota Department of Public Safety's Office of Traffic Safety, in 2014 there were 25,258 alcohol related incidents in Minnesota. While not all of these led to crashes, still there were those that did which resulted in 111 deaths and 2,040 injuries associated with alcohol. Of all deaths and injuries that occurred in 2014, 31% of the deaths and 20% of the severe injuries were alcohol related. The cost to society for these crashes are estimated to be $214 million.

Drinking drivers themselves generally pay the price for their risky behavior. 72% of those who died in alcohol related deaths were the drunk drivers themselves. But the even more tragic part is that 28% of the deaths were non-drinking drivers, passengers, pedestrians or bicyclists.

Not surprising, most alcohol related crashes occur on Fridays, Saturdays and Sundays. Combined these three days accounted for 39% of traffic crashes, but 60% of the alcohol related crashes. The late night hours of 9 p.m. to 3 a.m. accounted for only 11% of all crashes but 47% of the alcohol related crashes.

As grim and sobering as these statistics are, in reality the percentage of alcohol related traffic fatalities in Minnesota has steadily decreased in the past half-century. In the 1960's, around 60% of all traffic deaths per year were alcohol related. Today, this percentage hovers around 31%. This is a great success story for Minnesota and the nation as a whole and is proof that as behaviors change, less tragedy occurs on our highways.

So getting back to your original question about red wine: go ahead and enjoy a glass of wine, beer or other alcohol beverage but only in moderation and only within legal limits if you intend to drive. That way not only will you remain healthy, but the rest of us will too.

To good health on the highways,

The Highway Doctor
---
24. First Sign of Spring?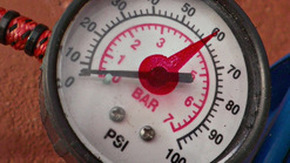 Dear Doctor:

Every spring as the temperature changes from hot to cold, I seem to get run down. My family doctor told me to take it easy and to reduce the amount of heavy lifting that I do for a couple of weeks until my body adjusts to the weather changes. I'm looking for a second opinion – what do you think would be a remedy for my condition?

Tyra Pressure

The Doctor's Diagnosis:

Dear Ms. Pressure:

As much as you might not want to hear it, I think that the prescription to reduce the amount of heavy lifting by your family physician is right on the money. In fact this is the exact prescription that many highway officials use on their highway systems. What am I talking about? Spring load restrictions (SLR's).

In regions of the United States where pavements are subjected to freezing conditions, SLR's are typically used as a pavement preservation strategy. During the spring, pavement layers are generally in a saturated and weakened state due to partial thaw conditions and trapped water. As air temperatures rise in the spring, a pavement begins to thaw from the top down. Unfortunately this thawed water cannot penetrate the still frozen subbase making for a very weakened pavement surface.

Many highways are designed to meet a 10-ton load design standard. Unfortunately there are many roads that are not designed to withstand this heavy of a load during their weakened spring thawing state. In Minnesota there are roughly 39,000 miles of paved roads that do not meet the 10-ton standard and are therefore restricted to lower weights in the spring. Minnesota's state, county and municipal road authorities have been implementing SLR's since 1937.

So how is it determined when SLR's should be implemented? The Minnesota Department of Transportation (MnDOT) is the agency responsible for determining the date to begin SLR's. Counties, cities and townships are responsible for determining which roads will receive SLR's and generally implement SLR's at the same time as the State. In previous years, MnDOT engineers would determine the beginning of the SLR's by field observations, deflection testing and general consensus. Once they determined it was time for implementing the restrictions, they would send out a seven-day notice. Unfortunately, an awful lot of road damage was inflicted during this 7-day waiting period.

After many years of analysis, empirical testing and field simulations, MnDOT has adopted a new policy based on actual and forecasted average daily cumulative temperatures to determine when SLR's should be enacted. They also went from a 7-day notice to a three-day notice. Once weight restrictions are placed on roadways, they will remain in place for eight weeks. By reducing the weight limits on these roads, it is estimated that over $10,000,000 of annual savings are realized from less wear and tear on the roads. It is also estimated that a road will be increased by over 10% by implementing SLR's.

So there's your second opinion. Until you adjust to the permanently warmer conditions, be like a road and reduce your heavy lifting. You'll be glad you did it!

To good health on the highways,

The Highway Doctor
---
25. ​Just when you thought winter was over...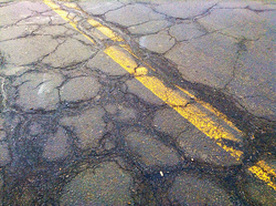 This issue's inquisitive reader called in from her cell phone…

Ddddear Ddddoctttor:

Iii tthink I'mmm havvving a nnnervvvous bbbreakdddown dddrivvving into wwwork. Iii cccan't kkkeep mmmy bbbody from ssshakkking. And ttthis rrroad Iii'm dddrivvving onnn is ppplaying tttricks on mmmeee! Yyyesttterddday ittt wwwas fffull of bbbumpy rrridges and tttoddday ittt is fffull of bbbumpy dddepppressions. Ammm Iii lllosssing ittt or wwwhat?!?!

Sssshay Kkkking,

The Doctor's diagnosis…

Dear Ms. King:

Hang on dear – you're not losing it! From the sounds of it, I would suspect that it is the road that is causing your shaking and not your nerves. You see, this time of year our roads and highways are under a considerable amount of stress (and you thought you were under a lot of stress!). With the temperatures going from below freezing to above freezing and back again (and again, and again, and again) the roads take a terrible beating. How is this so? Please allow me to explain. Because many highway departments have "bare roads" policies, our pavements are exposed to the cold winter air all winter long. This causes the soils underneath our pavements to freeze 8 feet or deeper. As spring approaches the temperatures rise and the sun gets higher in the sky. This starts the pavements to thaw out – from the top down. Any rain or snow melt during this period can get into the cracks of the road, but they get trapped there because the subbase is still frozen. When freezing temps return this water freezes. As you know, freezing water EXPANDS and this is what causes those annoying frost ridge bumps that you saw on your road.

So what causes those bumpy depressions? Actually, these are caused by the same process only worse. If a road thaws out enough the moisture in the cracks can actually drain away, but it also can wash away some of the subbase material with it. Remember, the pavement is already heaved up in a ridge from the last freezing temperature. When above freezing temps return, the ice leaves the pavement unsupported. The next heavy truck that comes along pounds this pavement down into the void beneath it and – voila – you get a depression bump in the pavement.

You can almost tell the condition of a road by the type of bumps it has this time of year. A new road with few cracks (or properly sealed cracks) will have very little bumps. A pavement in fairly good condition will exhibit the "ridge" bumps this time of year, but a pavement that has undergone more freeze/thaw cycles than it can handle will exhibit the "depression" bumps that you have noticed.

I hope your condition improves. If driving on a newer and smoother road doesn't stop your vibrations, then I can only suggest these other remedies: call your company's healthcare helpline for help with your nerves, drink less coffee, or get better shocks on your car!

To good health on the highways,

The Highway Doctor
---
26. ​Did you hear about this one before?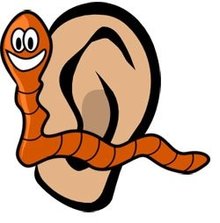 Dear Doctor:
I am very concerned about a condition that I overheard one of my co-workers talk - no make that "sing" - about. He complained about an "ear-worm" but still had a smile on his face. What is this and is it contagious?
Melody Malady
The Doctor's Diagnosis:
Dear Ms. Malady:
As severe as it sounds, an ear-worm actually isn't a physical or medical issue at all. Actually, an ear-worm, sometimes known as a brainworm, is a catchy piece of music that continually repeats through a person's mind after it is no longer playing. Phrases used to describe an earworm include musical imagery repetition, involuntary musical imagery, and stuck song syndrome. In more practical terms, it is simply a song that sticks in your mind, and will not leave no matter how much you try. It's a song with an 'addictive' element (hook, melody, lyric) that draws people into listening multiple times. The song doesn't have to be good or bad, it just needs to have that 'addictive' element.
Being
The Highway Doctor
, all of this talk brings to mind another concern I have about distracted driving that can be a real safety issue on our highways – wearing earbuds or headphones while driving. Even though driving while rocking out to your favorite tunes is perfectly legal when you're blasting your car stereo, in the state of Minnesota it is illegal to drive with headphones or earbuds. Minn. Stat.
§
169.471 TELEVISION; HEADPHONES states:
Subd. 2. Use of headphones in vehicle.
(a) No person, while operating a motor vehicle, shall wear headphones or earphones that are used in both ears simultaneously for purposes of receiving or listening to broadcasts or reproductions from radios, tape decks, or other sound-producing or transmitting devices.
Using headphones or earbuds behind the wheel may seem safe — after all, you're technically complying with all those "hands-free" laws that keep popping up in more states and local jurisdictions nationwide. Right? Not so according to some public safety advocates. Listening to music on headphones while driving is a distraction, and can impair your ability to hear the sirens from emergency vehicles nearby and other important traffic sounds that would be audible if you were only listening to the radio. They point out that a headphone cable across your lap could become tangled and present a steering hazard. Having only one earbud or headphone make still be perfectly legal, but whatever you choose to do, make sure you take the law, your safety, and the safety of others on the road into account first.
So don't worry about your co-worker in your office singing in your office who has an "ear-worm". It's not something that will cause you any harm. But do be on the look-out for those jamming in their car with their earbuds in. You wouldn't want to be the next theme song of the "Crash Test Dummies" now would you?!
To good health on the highways,
The Highway Doctor
---
27. ​An orange flower to replace an orange cone on highways?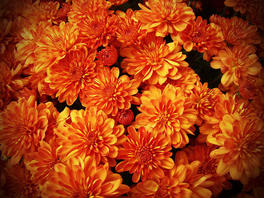 Dear Doctor:

My medical doctor has advised me that I can reduce my stress level by adding soothing things into my life like enjoying flower gardens or adding picturesque sceneries at my home or office. Unfortunately, I am an over-the-road truck driver and I spend a fair amount of time in my truck and on the road. Is there something that you can do to make the highways more attractive?

Chris Anthemum

The Doctor's diagnosis:

Dear Mr. Anthemum:

I am glad to see that you are taking heed of your doctor's advice and following up on ways you can reduce the stress in your life. Stress is a silent killer that can take years away from someone's life.

I hope to show you that we too in the highway business can reduce the stress in your life too. Our first and foremost responsibility is to maintain a system of roadways that provide transportation for business, residents and travelers in the most safe and efficient way possible. The best way that we can keep your stress level down is for you to be able to freely and safely move around. But besides that, yes there are things that can be done on the highway system that can make it appear more attractive as well.
​
Most highway agencies have adopted guidelines that can be used with regards to landscape and streetscape features that can be incorporated into a highway project. In considering what aspects would be acceptable, agencies must first look at the treatment being proposed and the safety design standards that would apply for that given highway type. For example, an agency may not accept trees planted in the median of a high volume, high speed highway because it would not be able to meet the "clear zone" requirements as trees would be considered a rigid obstacle. However, low level, non-rigid items such as flowers or small shrubbery may be allowed.
​
The various landscaping treatments must not only be acceptable from a safety standpoint, but must be very hardy as well. It is no secret that tons of salt is being spread on our highways each winter to control snow and ice. Salt residues absorb the moisture from the adjacent grass and nursery stock. This is why drought resistant grasses or shrubbery is essential in highway landscaping.

There are many streetscape ideas that can be incorporated into a project as well. These items include decorative street lighting, colored or stamped concrete, custom patterned retaining walls, etc. Once again as long as these items meet safety, ADA or other required standards, their implementation into the project may be possible.

The next time you are driving around you may notice many routes that have fairly unique and attractive landscape and streetscape enhancements. Some may have very elaborate flower garden in the median. Others may have a historic or other type of theme with its roadside motifs. And still others may use colored concrete patterns to break up the customary solid white.

While I as the Highway Doctor find true beauty and elegance in the safe and efficient look and feel of any new highway, there is some added enhancement to the average road user from those projects that do include landscape or streetscape improvements. I hope this helps reduce the stress in your life.

To good health on the highways,

The Highway Doctor ​
---
28. ​Can a song become your new reality?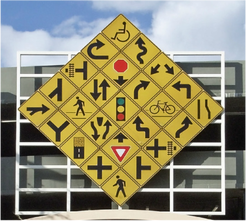 Dear Doctor:

I was listening to my favorite oldies radio station in the car the other day when I heard the Five Man Electrical Band singing, "Signs, signs –everywhere signs…" when I noticed that as I looked along the road there were signs – everywhere! Yellow signs, white signs, square signs, triangular signs – signs of all shapes, sizes and colors. So what are all of these signs for anyway and who decides what goes up, where and why?

Alotta Sines

The Doctor's diagnosis:

Dear Ms. Sines,

I'm sure that you may think that many of the signs you see are nothing more than sign pollution, but each and every sign does have a purpose. Sure, you may understand why a stop sign is there, but what about all of those other signs and traffic control devices?

First of all, let me define "traffic control devices". Traffic control devices include all signs, signals, pavement markings, and other devices (cones, barrels, barricades) used to regulate, warn, or guide traffic placed on, over or adjacent to the street or highway. The purpose of traffic control devices is to promote highway safety and efficiency by providing for the orderly movement of all road users on streets and highways. Traffic control devices notify road users of regulations and provide warning and guidance needed for the safe, uniform, and efficient operation of all elements of the traffic stream.

To be effective, a traffic control device should meet five basic requirements:

A. Fulfill a need, B. Command attention, C. Convey a clear, simple meaning, D. Command respect from road users, and E. Give adequate time for proper response.

The actions required of road users to obey regulatory devices are specified by state statute as well as the traffic control devices themselves. In Minnesota, the Minnesota Manual on Uniform Traffic Control Devices (MN MUTCD) has been developed to establish standards for the use of traffic control devices.

This extremely informative document is very similar to the federal Manual on Uniform Traffic Control Devices which ensures that there is consistency of all traffic controls between states. (Red means stop in Wisconsin too!) Before the 1930's, there were no uniform traffic control standards (there must have been less lawyers then too!). But today, highway engineers around the country and state have very specific manuals that they can refer to in ensuring that the traffic control devices that they select will promote safety and efficiency as required. The manual will help a designer first determine if a traffic control device is required, what type it needs to be, and how to properly place the device so that it is effective. The device may be permanently installed on the road such as a sign or paint striping or temporary in nature such as a construction work zone or maintenance operation.

So go back listening to your oldies radio station. And when you hear that song about signs again just remember – highway signs may not be everywhere, but the ones that are out there are there to make the highway safer for you and everyone on the road. Even for the "long-haired freaky people" that the song refers too!

To good health on the highways,

The Highway Doctor ​
---
29. ​How to Rehab Your Game!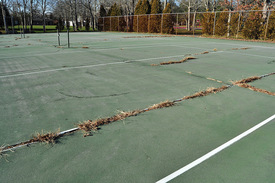 ​Dear Doctor:

I am really confused and actually a little upset. You see, I recently had some arm surgery – elbow replacement to be precise. I was looking forward to weeks if not months of rest and relaxation waiting for the arm to heal. But noooooooo - my doctor had me in physical therapy the very next day! What kind of rehabilitation is this all about?

Dennis L. Bowe

The Doctor's Diagnosis:

Dear Mr. Bowe:

Thanks to baby boomers, weekend warriors and others who don't want to give up an active lifestyle, a growing number of people are getting joint replacement surgery today. In fact, joint replacements are growing faster in patients aged 45 to 55 than in any other age group. But the old laying in bed with an immobilized limb while the body heals is a thing of the past. The best and fastest rehabilitation method will include a specific physical therapy program. Physical therapists are trained to identify deficiencies in the biomechanics of the body. Working with a physical therapist can target specific areas of weakness in the way our bodies work. They can relieve stress and help the body function without pain. Physical therapists are knowledgeable about surgical procedures and treatment goals, and can tailor their efforts to improve your well-being. After surgical procedures, it is important that therapy is guided by the surgical procedure. Physical therapists are
knowledgeable about your body's limitations after surgery and can help ensure a successful outcome. After an injury or surgery, scar tissue forms and soft tissue contracts. It is important to regularly stretch in these situations to ensure that scar formation does not get in the way of your rehabilitation.
​
Being the Highway Doctor, all of this talk about rehabilitation reminds me of maintenance of roads and highways. Just as physical therapists have various methods in working with their patients to get their body back into good physical condition, highway professionals also apply a variety of rehabilitation techniques to restore the life of a roadway's pavement. A successful pavement rehabilitation program encompasses a full range of rehabilitation strategies as well as maintenance treatments, with the goal of enhancing pavement performance (ride, quality, safety, etc.) and life (pavement durability). The primary asphalt pavement rehabilitation treatments are:

Full-depth or partial-depth repair, or patching, of an asphalt pavement is localized repair of distresses related to structural damage, materials problems, or construction problems.

Cold milling is the removal of material from an asphalt pavement surface, using carbide bits mounted on a rotating drum. Cold milling may be done for one or more of several reasons: to texturize the surface prior to resurfacing in order to enhance bond (mill and overlay), to remove excess asphalt concrete thickness, to remove oxidation at the surface, to remove unstable asphalt concrete material, to modify the longitudinal and/or transverse grade, to maintain or reestablish curb and
gutter lines prior to resurfacing, to remove rutting, and/or to remove bumps.

Hot in-place recycling is the on-site rejuvenation of aged asphalt concrete material. Hot in-place recycling is usually but not always done in conjunction with resurfacing. Rejuvenating the existing surface prior to placing an overlay enhances bond and discourages reflection cracking.

Cold in-place recycling is the on-site cold milling of asphalt concrete material, mixing of the material with an emulsified asphalt and/or other additives (lime is
often used), and laying down and recompacting the material. Cold in-place recycled material is not as stiff or as stable as hot-mix asphalt, so it usually must be capped with an asphalt concrete wearing course or a single or double surface treatment. If emulsified asphalt is not injected into the millings and is topped with a new hot-mix pavement, it is called reclaim and overlay.

An asphalt overlay of an asphalt pavement may be placed to improve ride quality and/or surface friction, or may be placed for the purpose of substantially increasing structural capacity.

A concrete overlay, or whitetopping, of an asphalt pavement is usually done to increase structural capacity. Ultrathin concrete overlays are constructed with very short joint spacings, and sometimes with high-early-strength mixes and fast-track paving methods, with the goal of opening the overlay to traffic quickly.

So there you have it - an answer to your question on physical therapy for your body and for our highways too. If both of these rehabilitation techniques are properly applied, you'll be back on the road in no time – and a good road at that!

To good health on the highways,

The Highway Doctor
---
​30. You Can Breathe Easier Now!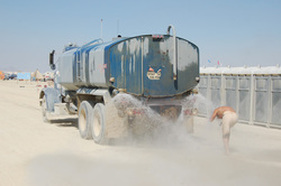 ​Dear Highway Doctor:

I've recently been diagnosed with asthma by my family physician. While I've made adjustments in my life to deal with this condition, the one thing that I can't control is all that dust from a road construction project near my office. Is there something that can be done to control this problem?

Dustin Milungs

The Doctor's diagnosis:

Dear Mr. Milungs:

I hope I have an answer that will allow you to breathe a little easier. I agree that construction dust can be a problem if not controlled. Fortunately there are numerous remedies that can be prescribed to cure this problem. The basic principal of dust control is to improve the cohesion of fine, binder aggregates. The easiest, cheapest and most often utilized remedy is to simply add water to the exposed soil or aggregate base to hold down the dust. This is usually applied from a spray bar or hose from a large water tank truck. The added benefit of this method is that the water can help in the compaction of the soil or aggregate by bringing it to its optional moisture content.

For a longer cure, calcium chloride can be added to the water to make a salt water solution that is applied as noted above. The calcium chloride continues to draw moisture out of the air to keep dust from developing. For stubborn areas that will be exposed for long periods of time, calcium chloride flakes or pellets can be graded into the surface. This maintains dust control very well, but also is the most expensive. An additional benefit of both calcium chloride treatments is that they can also help stiffen or stabilize the base being treated.

Of course, the best thing to do is to leave the exposed surface bare for only the shortest period possible. That is pave aggregate surfaces quickly and establish permanent vegetative covers as soon as practical. Due to ever increasing environmental regulations, especially as it pertains to storm water runoff, this approach is becoming much more prevalent that in the past.

So relax and take a deep breath, dust can be controlled better now than ever before. And, like it or not, the beauty of living in Minnesota is that construction season won't last forever. (But we know what that OTHER season is - ugh!).

To good health on the highways,
​
The Highway Doctor
---
31. You don't have to be a Brain Surgeon to understand this message!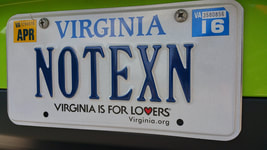 Dear Doctor:

I was watching one of those "Doctor's" daytime television shows the other day and they were talking about how a brain can get "short circuited". I'm not an electrician or anything but this doesn't sound right to me. Can you help give some insight into this?

Dane Bramage

The Doctor's Diagnosis:

Dear Mr. Bramage:

Well believe it or not, the brain is "wired" very similar to any major electrical device and operates very similarly too. In fact the brain actually does produce small electrical discharges to function! Neurons are the basic working unit of the brain and nervous system. These cells are highly specialized for the function of conducting messages. Everything we do relies on neurons communicating with one another. Electrical impulses and chemical signals carrying messages across different parts of the brain and between the brain and the rest of the nervous system. When a neuron is activated a small difference in electrical charge occurs. This unbalanced charge is called an action potential and is caused by the concentration of ions (atoms or molecules with unbalanced charges) across the cell membrane. The action potential travels very quickly along the axon, like when a line of dominoes falls.

When the action potential reaches the end of an axon, most neurons release a chemical message (a neurotransmitter) which crosses the synapse and binds to receptors on the receiving neuron's dendrites and starts the process over again. At the end of the line, a neurotransmitter may stimulate a different kind of cell (like a gland cell), or may trigger a new chain of messages. Neurotransmitters send chemical messages between neurons. Mental illnesses, such as depression, can occur when this process does not work correctly. Communication between neurons can also be electrical, such as in areas of the brain that control movement. When electrical signals are abnormal, they can cause tremors or symptoms found in Parkinson's disease.

Being The Highway Doctor, you have already heard me talk about the hazards of texting while driving. But new studies are now showing that texting while driving doesn't just distract you a little or take your eyes off the road for a few seconds, but it also "short-circuits" the part of your brain that keeps you driving in a straight line on the road! University of Houston researchers hoping to learn why drive-texting is so deadly put students to the test in simulators and distracted them with all kinds of distractions including texting. In all cases, there car handling became jittery – but only texting caused dangerous lane deviations and unsafe driving because it severed the hand-eye connection needed to activate the "sixth sense" that keeps us on course.

Once again, here are the sobering statistics of driving while texting: 

Makes you 23 times more likely to crash.
Kills 11 teenage drivers every day. 
Causes 1,600,000 accidents and 330,000 injuries every year. 
Is responsible for 25% of all accidents. 
Slows your brake-reaction speed by 18%. 
Makes you about 6 times more likely to cause an accident than driving drunk. 
Leads to a 400% increase in time spent with your eyes off the road. 
Is similar to driving blind for 5 seconds at a time.

So don't even tempt your brain to get short-circuited when you drive by turning off your cell phone, putting it in "travel mode" with an automatic reply, or throwing it in the glove box where you can't reach it – it'll be waiting for you when you get to where you're going. And by following this advice, you'll actually have a better chance of getting there as well!

To good health on the highways,

The Highway Doctor
---


Copyright 2018 Douglas W. Fischer Minneapolis, MN